by Jennifer Riley Simone, guest blogger
Busy buyers are looking for move-in ready homes with a universal design thateasily adaptable. Making your home appeal to a wide range of potential homeowners will help it sell. Kitchen and bathroom upgrades have always been the most features to buyers, but there are some additional spaces to consider remodeling or improving when youlisting your home, and some of them have a considerablereturnwhen the home sells.
Basement remodeling: If your home has a basement, turn it into useful space Create a family room, rec room, or entertainment room on a budget by purchasing used furniture and appliances from Craigslist and making a few décor additions. If you can make the investment, consider using abasement contractor to professionally remodel the space. Basement remodels had an average ROI of 70% in 2012—one of the highest returns of all remodeling projects.
 Attic conversions: Like basements, attics that can be transformed into a space that useful to the homeowner to buyers. A bedroom, office space, yoga studio, or crafting room looks more organizedfunctional than storage. Attic bedrooms create extra rooms within a home's existing footprint and are particularly appealing to growing families. This type of remodel also had a high ROI in 2012, averaging over 72%.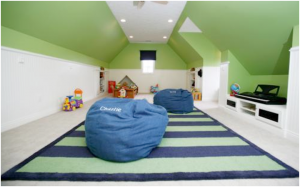 An attic conversion can be useful, attractive, and cost-effective.
 Master bedroom addition: A home without a master can be a turnoff to buyers. The good news is you can create one through a fairly affordable remodeling project ombining an adjacent bedroom and bath by removing or rearranging a few walls. The project can be an opportunity for a bathroom upgrade as well. You can also create an attic or basement master, convert a garage
 Minor kitchen remodel: A minor kitchen remodel had an average ROI of nearly 73% in 2012 and can really do wonders to help sell a home. A "minor" kitchen remodel should address the two or three most pressing issues in the kitchen, usually appliance upgrades and other issues related to workspace and storage. A kitchen island addition is an affordable upgrade that solves multiple design dilemmas in the kitchen, including countertop space, storage, seating, and an improved kitchen work triangle.