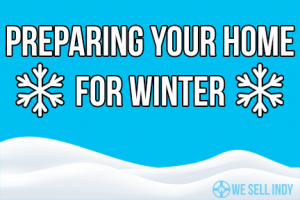 As the weather begins to turn, the dark cold Indiana winter days are just around the corner. It is important to insure your home is ready for the change in weather and in good working order. Here are a few of our favorite tips for preparing your home for winter:
Get your service cleaned and certified by a licensed HVAC technician

The last thing you want to happen this winter is to walk into a cold home because your furnace isn't working. This can lead to bigger problems such as frozen pipes and a huge mess. Call your local HVAC contractor to come insure your furnace is clean and running well heading into the coldest part of the year. Need a suggestion of who to contact? Give us a call and we'd be happy to provide suggestions for you!
Insure your home is well insulated and sealed

Start with your doors and windows. If you can see daylight around doors or windows, this is an area where major energy loss occurs. Add weather stripping to insure that your home keeps the heat sealed in!
Check your fireplace

If you love to warm up by lighting a fire in your fireplace, you should insure your chimney is in good working order prior to lighting the first fire of the season. Throughout the year, animals can build nests or creosote buildup can occur and lead to a fire hazard. We recommend getting your fireplace cleaned by a professional prior to use.
Reverse your ceiling fans

If your ceiling fan has a reverse switch, use it to run the fan's blades in a clockwise direction after you turn on your heat. This will take the hot air that rises and push it back dow into a room. This is especially helpful in rooms with cathedral ceilings or two story living rooms!

Clean your gutters

If your gutters are full of leaves and other debris from the fall, water can back up against your home and damage your home. This can lead to wood rot, roof damage and even ice damming as the temperatures fall below freezing.
Turn off exterior faucets

Undrained water in pipes can freeze, which will cause pipes to burst as the ice expands. Start by disconnecting your hoses and draining the water that remains in the faucets. If you live in an older home that doesn't utilize frost proof faucets, use the shutoff valve inside your home to stop the flow to these faucets.
Have a question about preparing your home for winter? Feel free to give us a call. We'd be happy to share our experiences or provide an introduction to a local expert in any of the trades!