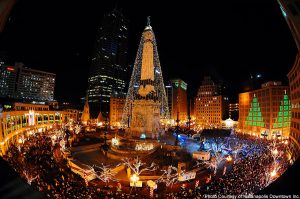 Indianapolis Area Christmas Light Displays
One of our favorite (sometimes FREE!) things to do at the holidays is pack our families in the car with a warm cup of hot chocolate and drive around to look at Christmas lights. Whether it be simply driving through your area and seeing what your neighbors have come up with this year, visiting the same display as a tradition each year or seeking out the latest and greatest lights display, it is the time spent with loved ones that creates such lasting memories. Here are a few of our favorite Christmas light displays across Indianapolis and the rest of Central Indiana:
Lights at the Brickyard will return this season a 2+ mile route that crosses the famous Yard of Bricks and features over 2.5 million bright lights illuminating an expansive lineup of colorful displays. Tip: Click here to buy a speedy pass and skip the line!
Location: 4790 W 16th St, Indianapolis, IN 46222
When: November 17th – December 30th
Cost: $25 per car Monday – Wednesday, $30 Thursday – Saturday, $50 for 15+ passengers
Reynolds Farm Equipment Lights Display
For many in Fishers and across other north side communities, driving through the lights at Reynolds Farm Equipment just off of 126th Street and SR-37 is a holiday tradition. This display which has run for 25 years features over a million lights and a 57 foot tall abominable snowman!
Location: 2501 Reynolds Dr, Fishers, IN 46038
When: November 21st – January 1st
Cost: Free, donations accepted
Downtown Indianapolis features one of the largest "Christmas Trees" in the country with the lights around Monument Circle's Soldiers & Sailor's Monument. The lights kick off with a ceremony featuring live music and a lighting ceremony on November 24th. This is a holiday tradition here in the Circle City!
Location: 1 Monument Cir, Indianapolis, IN 46204
When: November 24st – January 1st
Cost: Free, donations accepted
The Nickel Plate District comes to life at Fishers' Winter Wonderland! The season kicks off with a celebration on Thursday, November 30 from 6 – 7:30 p.m. on the Central Green! Celebrate the start of the holiday season with the holiday lights display, and step into the Winter Wonderland featuring an ice carving demonstration, live music by Dave and Rae, and live reindeer. This special night will conclude with an appearance by Santa Claus himself! The ever popular "Santa's Mailbox," will be run November 13 – December 11 at inside City Hall and at the Fishers Parks & Recreation Office. Children in 4th grade and under can drop off their letters to Santa along with a self-addressed, stamped envelope with your letter, and you'll receive a reply in the mail from good old St. Nick. Pictures with Santa for kids of all ages are available on Wednesday, December 6 and Thursday December 7 from 6 – 7:30 p.m. at City Hall. Each family receives a free photo with Santa!
Location: 6 Municipal Dr, Fishers, IN 46038
When: November 30th – January 1st
Cost: Free, donations accepted
A visit to the Indianapolis Zoo during the holidays is unlike any other time of the year! Christmas at the Zoo brings together the best of the holiday season with all that our fabulous zoo has to offer! Lights will be glimmering throughout the park and several animals will stay up late to enjoy the cooler nights. Stay warm venturing between indoor buildings, sipping on hot beverages as you stroll among the lights, or sitting by two campfire locations throughout the zoo.
Location: 1200 W Washington St, Indianapolis, IN 46222
When: November 24-26th, 29-30th & December 1-3rd, 6-10th, 13-23rd
Cost: $9.95 for Children, $12.95 for adults